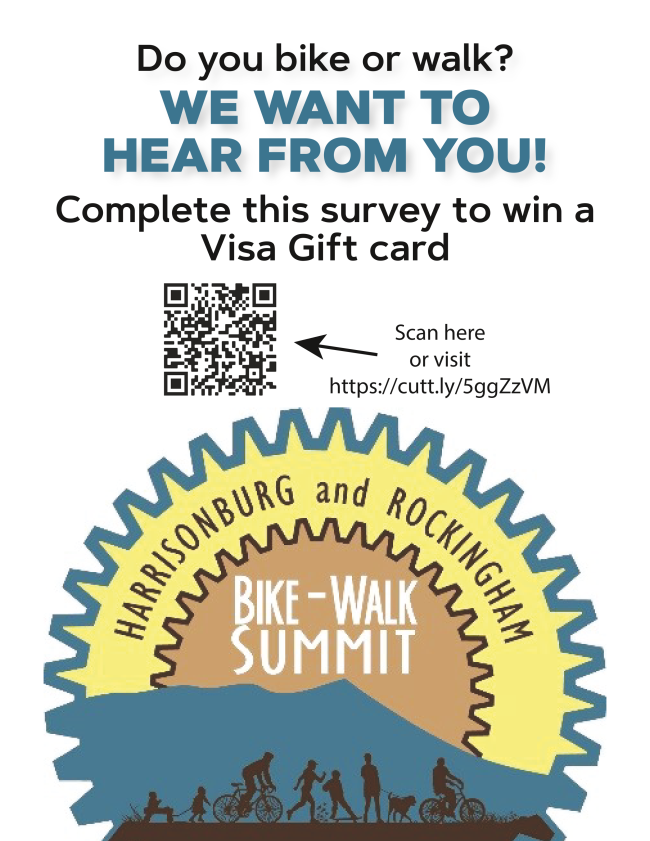 The Harrisonburg &Rockingham Bike-Walk Summit Committee is releasing a survey to understand how the COVID-19 pandemic changed people's travel behaviors. Launching November 16, 2020, the survey examines whether the pandemic and people's experience of making fewer trips or walking and biking on streets with significantly-reduced vehicle traffic influenced their decisions about how to travel.
As the re-opening has occurred, and trip-making has returned to pre-pandemic levels, did the experience of walking and biking instead of carpooling or taking transit, or teleworking instead of commuting change residents' views and experiences of travel in the Harrisonburg/Rockingham Area?
The Bike Walk Summit Committee is committed to sharing the survey broadly in the community in order to assure that responses reflect the experiences of residents from different neighborhoods, socio-economic backgrounds, races and ethnicities. They will share the results of the survey with local leaders and the community at large in early 2021.
The survey is primarily available online, via a mobile-responsive website, but paper copies are available by request via the Shenandoah Valley Bicycle Coalition. As an incentive to complete the survey, the Committee is offering 5 Visa gift cards drawing at the close of the survey.
Contact: Kyle Lawrence, , 571-277-8121