Can you help us wrap up our 2020 Massanutten Western Slope Trail Work Season with a BANG? We are aiming for three new trails PLUS the Skills Kitchen in 2020. Not bad for a global pandemic.
What: End-of-Season trail work final volunteer push to build yet another trail in 2020.
How do you find the trail? You can park in the main lot and walk or bike to the trail or you can enter via the red gate on Del Webb Drive and drive past the old guardhouse, past the horse trailers, and follow the "Trail Work" signs to the location. Parking will be along Del Webb and will be near either the "P" or "U" intersections. Map Below
When: October 8-10 with specific time slots on each day click to see the full list of time slots
Why: The Western Slope trails of Massanutten are an integral part of our local trail community and are a primary reason for the growth in mountain biking in our region. Yet we are still lacking good trail progression. Help us build another segment of our newest "green" loop to ensure the Western Slope is an inclusive and accessible place for anyone to begin and progress on a bicycle.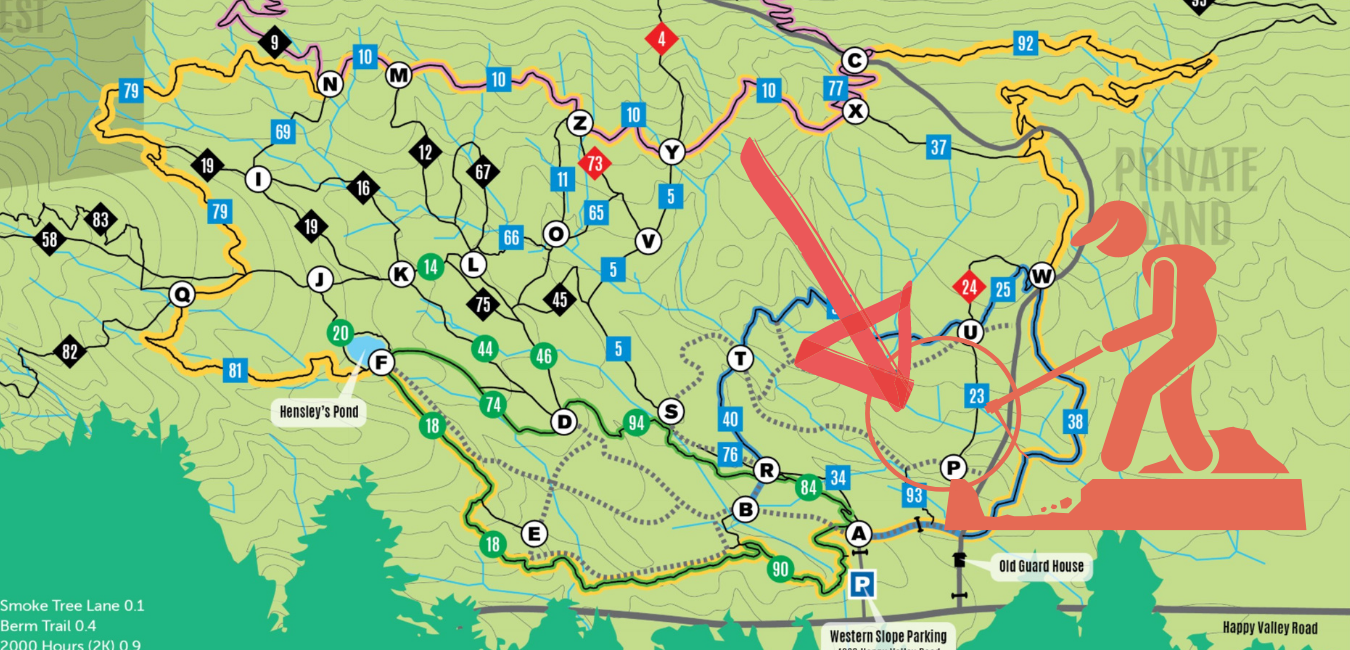 More details:
Thanks to the generous trail pass donations we have received over the past year, we are able to once again hire Sam Skidmore to operate a machine to build our latest trail "Red, White & Blue." This will be the southern tier of our new lower Green Loop.
We need YOUR help to finish this new build. You will be using hand tools for the finish work on the trail.
What is "Finish Work"?
Finish work consists of back sloping, raking, clipping roots, and generally smoothing out the trail tread after the machine has finished its work. You can even watch the video below for a tutorial on how to "finish" a trail.
Still have Questions? Contact Us or (571) 277-8121
What do I need to know?
Instruction will be provided by experienced Bicycle Coalition crew leaders.
Tools will be provided.
Volunteers must wear sturdy shoes or boots, and bring their own gloves and water.
Additional water will be provided.
We have multiple shifts available over the course of this 3-day event.
Be Sure to RSVP for a shift below