Coalition Awarded Trails Building Grant – Seven Bends
River to Ridgetop Trail – North Fork Shenandoah River to Massanutten Mountain Connection (Seven Bends State Park and the GW National Forest)
The Shenandoah Valley Bicycle Coalition is excited to announce the award of our fifth Virginia Recreational Trails Program Grant (RTP) to continue improving trails on public lands. For this project, we are spreading the trail love and pixie dust into Shenandoah County for improvements to Seven Bends State Park and the Lee District of the George Washington National Forest.
Our last RTP grant improved trails on Narrowback Mountain along Tillman Road. The program funding is administered by the state of Virginia and comes from the Federal Highway Administration and the Infrastructure Investment and Jobs Act.
All lines on the map are proposed and subject to change as we move through the planning process and environmental review.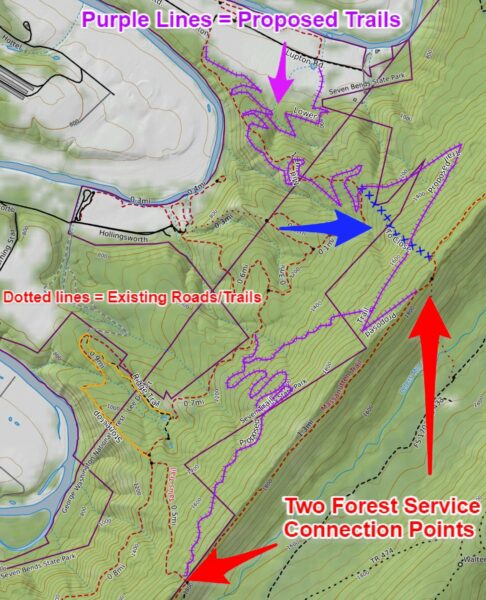 This $300,000 project will rely on your support as the Coalition and our partners work to provide 20% of the total project cost in volunteer labor, in-kind services, and cash. Donations are critical for the success of this project. Can you support our work Today?
The River to Ridgetop Trail Project will build an accessible and sustainable shared-use trail from the North Fork of the Shenandoah River up to the Massanutten Mountain Trail on top of the Massanutten Ridge.
People will use the trails on foot, on bicycles, and on horseback.
Trail relocation and new trail construction will result in a modern trail with moderate grades. The resulting experience will encourage a wide range of non-motorized visitors. In addition, the two connections to the ridgetop trail will provide for a loop trail option incorporating Seven Bends State Park and the iconic trail network of the George Washington National Forest.
Next 3 Years
Now that the grant has been officially awarded, we will begin the planning and environmental review process. Stay tuned because we will have ample opportunities for public engagement with the project, and we want to hear your opinions. Feel free to leave comments on this post below or contact us directly via [email protected].
2023 will see us engaging the public in planning and completing the project's environmental review. We hope to start construction in early 2024 and also utilize the Applachian Conservation Corps to help with some of the rock work. The bulk of the trail construction will be contracted out to a professional trail builder through a competitive bid process. We expect the majority of the trail miles to be built with mechanized equipment.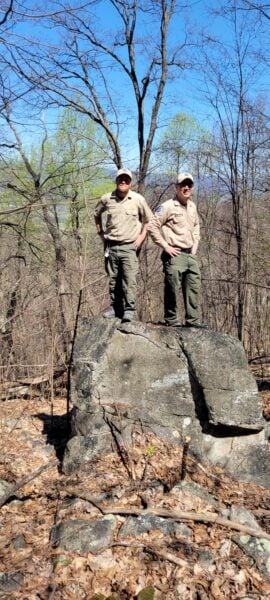 How Can You Help?
We are always looking for help with these large capital projects, and your donations help fuel this work and ensure we can manage and execute exciting and transformational grant projects like this. As we move towards construction in the coming years, we will also ask for volunteers to help with aspects of the project.
Explore a Detailed Map of the Proposed Project
---
Virginia Department of Conservation and Recreation Media Center – Press Release
Media inquiries: Please contact Dave Neudeck, [email protected], 804-786-5053.
FOR IMMEDIATE RELEASE
Date: September 26, 2022
Contact: Emi Endo, Senior Public Relations and Marketing Specialist, 804-786-8442, [email protected]
Seven projects selected for Recreational Trails Program grants
RICHMOND — The Virginia Department of Conservation and Recreation and the Federal Highway Administration have awarded seven trail projects through the Recreational Trails Program.

The Recreational Trails Program, or RTP, is a federal matching reimbursement program established to construct and rehabilitate recreational trails and trail-related facilities.
The 2022 projects, representing non-motorized, motorized, and diverse trail uses across the commonwealth, were selected from 22 applications received during an open application process that ended in June. Counties, cities and towns, park and recreation authorities, tribal governments, state agencies, federal agencies, and nonprofit organizations are eligible to compete for funding.

Information on future RTP grant rounds will be available at www.dcr.virginia.gov/recreational-planning/grants.

Selected projects
| | | |
| --- | --- | --- |
| Project | Sponsor | Award Amount |
| Four Mile Run All-Ability Water Access Point | Four Mile Run Conservatory Foundation | $300,000.00 |
| Greene's Crossing Landing | Town of South Boston | $103,068.25 |
| Heritage Park ATV Trails | Isle of Wight County | $103,068.25 |
| High Bridge Trail – Pamplin Extension | Virginia State Parks | $364,825.80 |
| Lee Ranger District OHV Maintenance Project | George Washington and Jefferson National Forests | $247,430.20 |
| Martha's Way Trail | The Mariners' Museum | $153,566.70 |
| River to Ridgetop Trail – North Fork Shenandoah River to Massanutten Mountain Connection | Shenandoah Valley Bicycle Coalition | $239,92 |