Ride of Silence Post-Event Report
Sixty-three riders participated in the SVBC's Ride of Silence on 15-May at 7PM.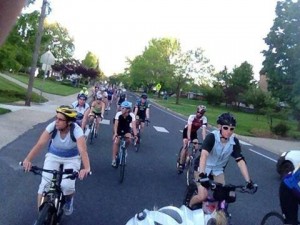 Thanks to all who showed up to support this memorial ride for those who have been killed or injured by motor vehicles.
The ride left EMU promptly at 7PM as it did from locations all  over the world.
The silent procession traversed the street of Harrisonburg, utilizing many of the bike lanes and shared use roads of the Friendly City.
Vehicles yielded to the mass of riders as we rightfully regained use of our roads.
Every level of rider was represented from pro-racers to Burley's and tag-a-longs.  The DR100 Board was well represented, fittingly so in honor of Joe Mirenda.