DOG DAY AFTERNOON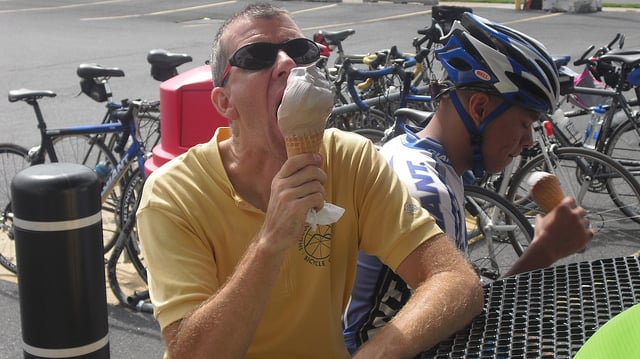 As we wrap up 2019, we are asking our members and broader network to support our community-centric fundraising campaign and please consider a donation to help us continue Building Better Communities in the Valley.
---
Guest post from Michael Neupauer better known as "Neups." Neups has been a member of the SVBC before the C abbreviated "Coalition." Back then, the letter C was short for Club. The Shenandoah Valley Bicycle Club was formed in the early 1980s and Neups assembled the monthly newsletters from March 1993 through December 2006 (Did you know that you can read almost all of the old newsletters online?). Almost a full 14 years! Neups wrote many pieces for the newsletter and has been a member of the SVBC for nearly twenty years.
With 2019 drawing to a close and looking towards 2020, your Coalition is committed to sharing a broader range of voices, from our dedicated volunteers to our board members, and even other local nonprofits working alongside the Coalition to Build Better Communities in the Valley. Head over to our Instagram feed to see our #SVBCBoardTakeover and the dozen volunteers we recently highlighted.
From Neups: I'm a roadie at heart. I've done some mountain biking, but the constant jarring didn't do my bones much good. So I did a lot of my "mountain" biking on gravel roads. I was never much for riding my nice road bike on the gravel. So when gravel bikes became a thing, I took the dive and bought one. Now when it turns colder, I put the battery-powered heated insoles in my shoes and head towards the quieter, less windy side roads I don't travel during the warmer months.

A month ago was one of those days. Actually, it was my first time back on home gravel since early spring. (I was on more than enough gravel on my touring bike on my Northern Tier cross country trip this summer.) I wrapped myself up and started out.

After dropping down route 42 north, I turned left on Cromer Road and my first gravel section of the day. That quick climb off 42 helped warm me up.  It seemed that there was a new stone put down recently. I thought they only did that once a year in the spring.

After turning right on Fort Lynne Road, I took the left at the environmentally friendly house onto Antioch Road. I was feeling pretty good, so when the dog came out of its yard, I did what I normally do on the road – speed up to ride it off my wheel. The problem was, I was on gravel and had a left bend coming up. Even though I thought to myself I had to watch the bend as it had a good amount of gravel buildup, I went down.  Hard. The dog went back to its yard and barked at me. No one emerged from the house.

I took stock of my pain.  My left knee, hip, elbow, and shoulder all hurt, but they all moved well enough for me to think I didn't break anything. I picked up the bike, got on it, and rode home. The legs felt somewhat okay, but the shoulder was grieving. So no standing on the climb up Mt. Clinton Pike.
I now think I fractured my collarbone. It's still hurting after a month, but slowly getting better. Of course, I still had house duties to attend to and was back on the bike a few days later, so maybe there's a reason it's seeming to take so long to get better.  Oh, well.

What I might do is get an air horn.  The leader of my Northern Tier tour swears by them. He said he's never had a dog not stop dead in its tracks once he blasts that horn. And unlike Halt, there's no need to try to aim and hit the dog, all while riding along and taking the wind into account. You might want to look into this option if you encounter dogs regularly. (Adventure Cycling's How to Stop a Charging Dog)

Be safe out there.
Neups