6/10: June Monthly Social with Special Guests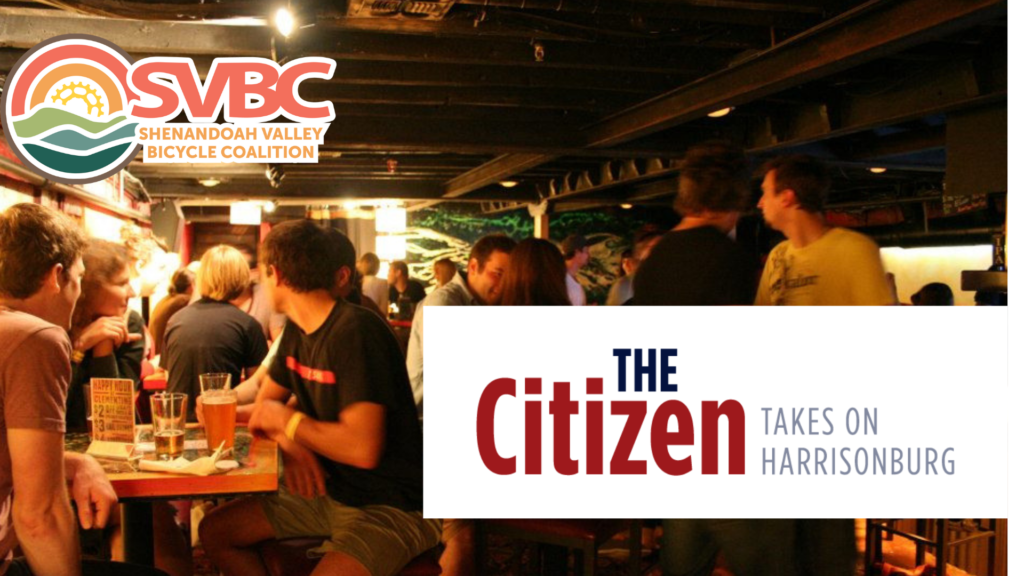 What: June Monthly Social open to everyone and anyone
Where: Clementine's Basement Lounge (Ruby's)
When: Monday, June 10 7 PM
Join us on Monday, June 10 for our Monthly Social in the basement of Clementine (Ruby's Lounge). Folks start to arrive at 7 PM and we usually kickoff a short agenda around 7:30. You'll hear briefly about past and upcoming community events and increasingly we have special guests attending to tell us more about various initiatives in the community.
For June we are very excited to welcome the founders of The Harrisonburg Citizen. Covering local news issues, The Citizen has already covered the Northend Greenway and the pesky issue protecting people on bikes in the case of a crash with a car.
From The Citizen's website: The Citizen is an independent source of news for the people of Harrisonburg, Virginia. Our goal is to tell the important and interesting stories that are otherwise un- or under-covered in our community. We will report aggressively and fairly on behalf of everyone who lives here, and will not place any content behind a paywall. The Citizen is funded by local advertisers and readers who support its mission.
Who Exactly is coming to talk about the Citizen?
Andrew Jenner, co-founder — Andrew has spent most of his career as a journalist in the Shenandoah Valley, working as a freelancer for the past decade. He has covered many things for many media outlets, including The Atlantic, The Washington Post, Roads & Kingdoms, Discover and WMRA. He returned home to Harrisonburg in 2018, after three years living and writing in Brazil.
Ryan Alessi, co-founder — Ryan mostly focused on covering state politics and government in Virginia's former county of Kentucky from 2003 – 2014. Before that, he was a reporter for the now-defunct Scripps Howard News Service in Washington, D.C. In 2016, he followed his wife to Harrisonburg, where he teaches journalism and media classes at James Madison University. You can reach Ryan at [email protected]
Bridget Manley, partner — Bridget spent most of her adult life working as a morning show producer and reporter for radio stations in Cumberland, Md., and Annapolis, Md., before moving to Harrisonburg seven years ago. When she's not reporting the news and helping run The Citizen, she's the manager of operations for Rivercrest Farm and Event Center in Shenandoah and also hosts a podcast that shares parenting stories called "Birds In A Tree."