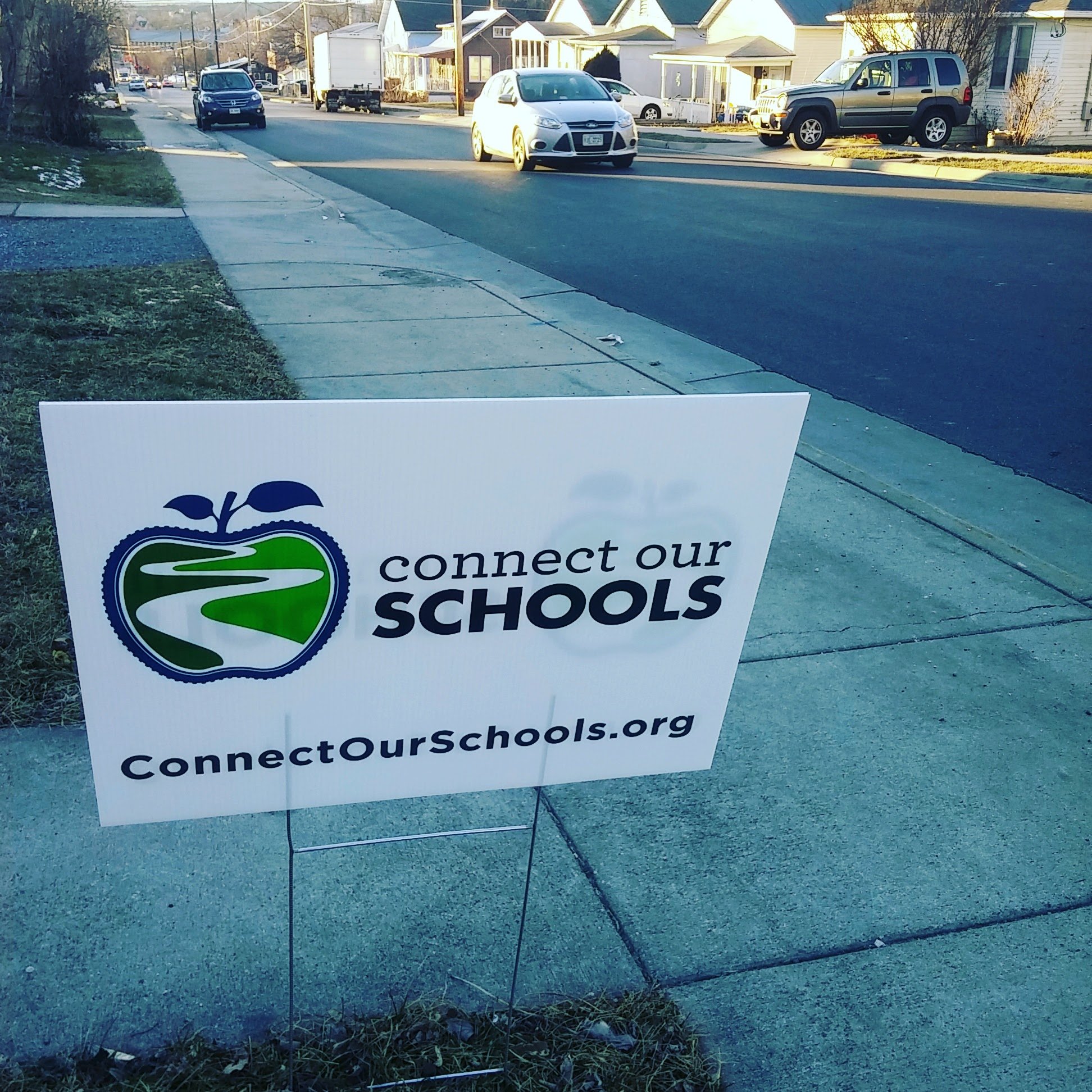 June 1, 2021 Update
At long last the Connect Our Schools project is under construction! The full project will be completed by the end of November 2021. You can view more details on the City of Harrisonburg's website.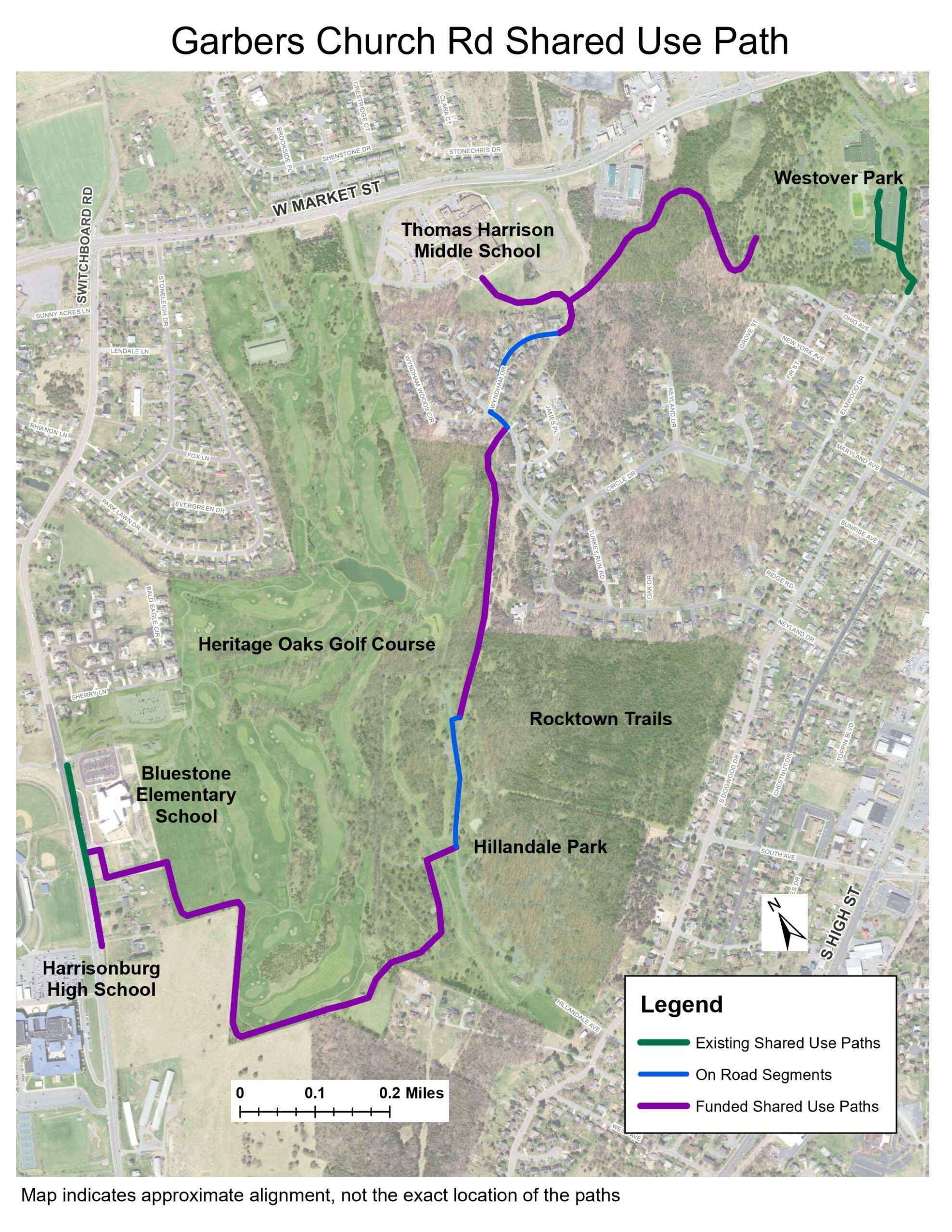 5/15/2017: Update- Contact Your City Council Members before Thursday 5/17
Timeline of how the Connect Our Schools process has unfolded: Read timeline here
WMRA piece on Connect Our Schools: http://wmra.org/post/gearing-school-bike-paths-harrisonburg
---
Goal: Fund and build Garbers Church Greenways by the time the new elementary school is built, thereby connecting over half of the City's student population with walking and biking paths to their elementary, middle and high schools
How Can I Help Make This Happen?
SIGN our Letter of Support to the City of Harrisonburg. We have a goal of 1,000 signatures from city residents by March 8. Sign, then please share with your friends. Sign Today
Opportunity
The City of Harrisonburg has the opportunity to fund and construct several shared-use paths in the vicinity of Garbers Church Road in tandem with the 2017 opening of the City's newest elementary school. These walking and bicycling paths would connect Harrisonburg High School, Thomas Harrison Middle School, and the future elementary school to the rest of the City.
About the Garbers Church Walking and Bicycling Paths:
The three paths in the Garbers Church plans would, combined, serve over half of the Harrisonburg city school population by providing walking and biking connectivity to Harrisonburg High School, Thomas Harrison Middle School, and the newest city elementary school. The three components of the project are described and shown on the map below:
Project 1: Paths along Garbers Church Road, likely a sidewalk north of the new elementary school, and an asphalt paved path along Garbers Church Road south of the new school.
Project 2: Connecting from Hillandale Park around the perimeter of Heritage Oaks Golf Course and to Garbers Church Rd shared use paths. Also a connection from Hillandale Park to the Wyndham Woods Neighborhood.
Project 3: "Cale" Trail and connections to Thomas Harrison Middle School. One or more of these connections may be natural surface and will connect Thomas Harrison to Wyndham Woods and Westover Park.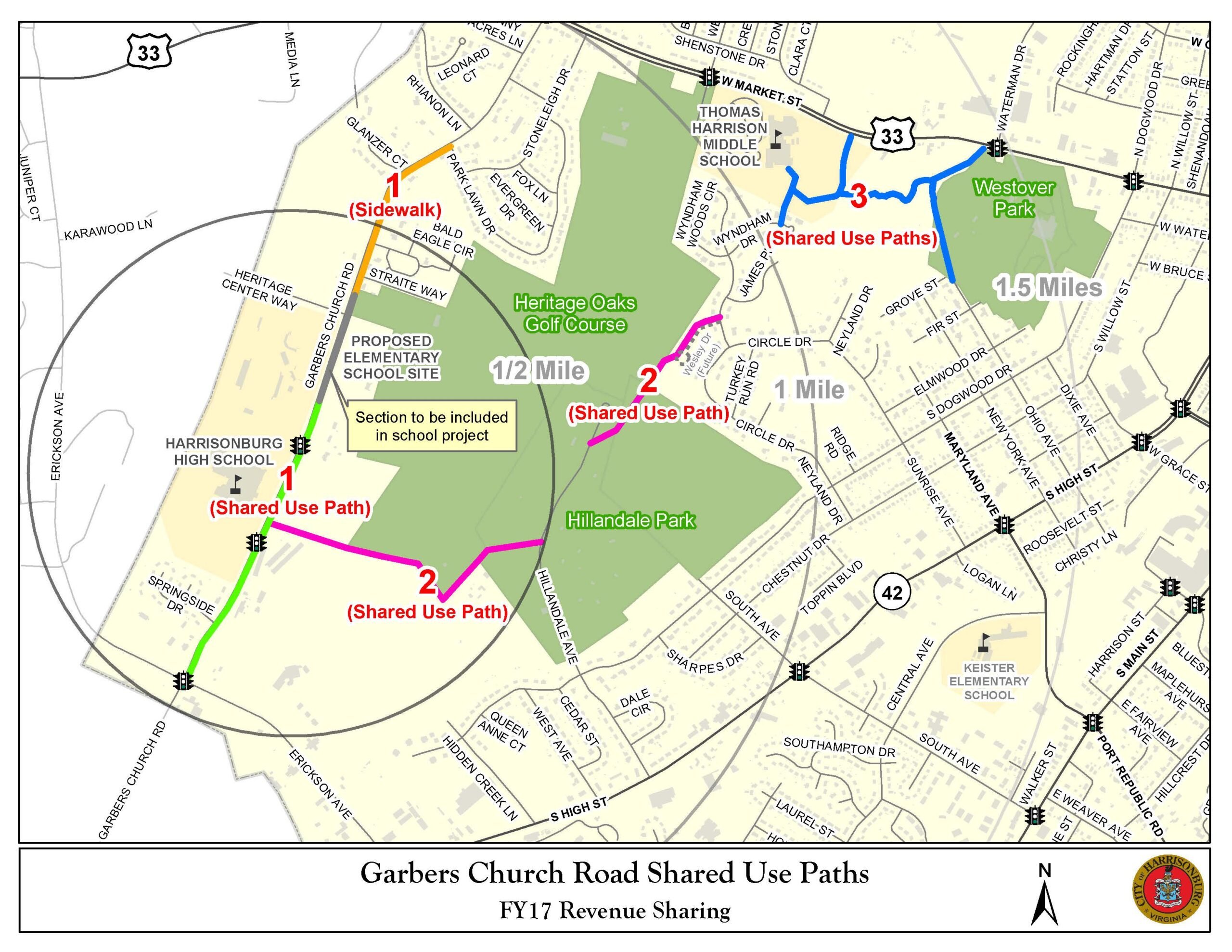 Frequently Asked Questions:
You can ALWAYS Email us with questions () or call us 571-277-8121
Why are these trails important?
These three projects combined would serve over half of the Harrisonburg city school population by providing walking and biking connectivity to Harrisonburg High School, Thomas Harrison Middle School, and the newest city elementary school. We wouldn't build a school without a road so we shouldn't build without cycling and walking connections either.
Where did this idea come from?
Planning for these connections began over a decade ago. These paths and trails have been specifically laid out in the City of Harrisonburg Bicycle and Pedestrian Plan since 2010 but the need for connections to these schools was identified as a component in the plan since 2005.
How much will it all cost?
City staff estimates the total cost of all three projects featured on map to be roughly $3 million. While that seems like a lot of money, it is important from a sustainability standpoint that these types of construction projects are executed in a manner that won't require frequent maintenance and maximizes the safety of all users.
How will the city pay for it?
We think the specifics of funding the paths is best left up to city council and staff, as they are the direct experts overseeing this project. As we've studied other successful bicycle-friendly communities around the country, we have noticed several important funding trends that we're happy to share:
Grant opportunities for bicycle infrastructure are significant and should be pursued whenever feasible.
Funding for cycling and walking accommodations can and should enjoy the same funding sources and conventional road funding.
The best time to plan for and implement bicycle infrastructure projects is concurrently with other capital improvements (whether building schools, widening roads, or other public amenities.) This both reduces overall construction time and lowers total costs, as all infrastructure improvements can be jointly financed.
Just like part of the overall budget for a new school includes a road to get there and parking lot once you arrive, we believe it should always include appropriate bicycle and walking access.

I heard that the city was applying for a grant to fund these projects?
You heard correctly! Fortunately, our city already values biking and walking connections. City staff, with the support of council, applied for a VDOT Revenue Sharing Grant that would cover half the cost of the project (roughly $1.5 million) with the remaining $1.5 million to be matched by the City. If awarded, the revenue sharing grant, the city will have full funding to complete all three Garbers Church Projects.
You can read specifics about the city's application in the November minutes from the Harrisonburg Bicycle and Pedestrian Subcommittee. The discussion is found on pages 2-4. The Garbers Church Road Shared Use Paths receive third priority out of five projects. The city will know by June whether or not VDOT will be awarding us the grant.
What is the timeline for this Issue?
The City is planning to open our newest elementary school in fall of 2017. That means that funding for these paths will likely need to be underway in the next few months. That said, we can't stress enough our goal to have these trails completed by the time the school opens.
//What will the trails look like?
The recently constructed Bluestone Trail is a great example of what these "greenways" or shared use paths would look and feel like whether on a bike or on foot. We imagine the majority of these trails to be paved while some may remain natural surface depending on the surrounding environment.
I thought we were already a "Bicycle Friendly Community"? Why do we need all of this?
As a result of all the hard work by the cycling community and our local government, Harrisonburg is recognized as a Bronze Level Bicycle Friendly Community. With more work we hope to move up the ladder to silver, gold, and one day, maybe even platinum. Just over the mountain, our neighboring city of Charlottesville is a silver level community. Harrisonburg recently received a report card from the League of American Bicyclists that includes a recommendation for us to implement projects from our bike/ped plan. You can read the full report card here. Construction of this project would demonstrate a serious commitment towards a "Silver" Bicycle Friendly Community and most specifically towards bicycle accessibility for students ranging from elementary to high school age
Connect schools to adjacent neighborhoods and Parks