At our August monthly social, staff from the George Washington and Jefferson National Forests presented the Coalition with an award from the US Forest Service Chief titled, the Enduring Service award. SVBC has been volunteering with the Forest Service for two decades and has done a great deal of work on Shenandoah Mountain trails. SVBC built the 2.8-mile Narrowback Trail, constructed a new parking lot for Wolf Ridge Trail, and rebuilt sections of the Wild Oak, Wolf Ridge, Dowells Draft, Bridge Hollow and Shenandoah Mountain Trails. The coalition maintains 100 miles of trails and roads used in the "Shenandoah 100" bike race. SVBC has also been an active participant in forest-planning meetings.
According to the USFS, SVBC's "activism has positioned them as a leader among other trail user groups and mobilized greater support for rehabilitation projects, resulting in more sustainable trails." Logging over 1,000 volunteer hours annually on a variety of recreation, health, and community building projects, SVBC also provides in-kind and other resources.  In 2016, they provided $284,000 for trail improvements that included trail relocation, rehabilitation, and signage.  "By working together, George Washington & Jefferson National Forests and SVBC have forged a relationship that benefits the American people and enhances outdoor recreation opportunities."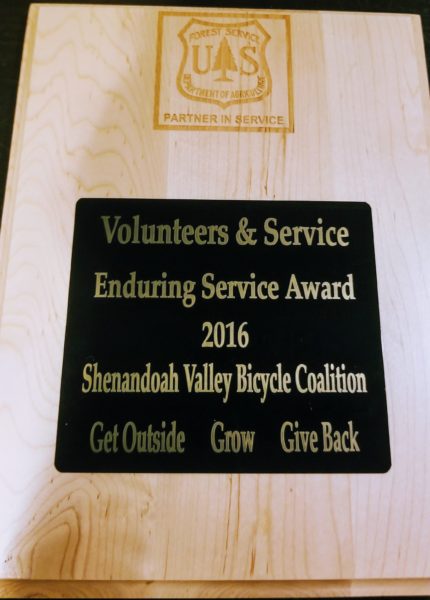 Forest Service Press Release:
(August 17, 2017) Harrisonburg, Va – The USDA Forest Service recently honored the Shenandoah Valley Bike Coalition (SVBC) with the Forest Service Chief's Volunteer Enduring Service Award. The award recognizes SVBC commitment to protecting our nation's natural resources and improving the quality of life for visitors who enjoy the trails on the North River Ranger District of the George Washington and Jefferson National Forests.
"The 'Enduring Service' Award is a National Acknowledgement designed to recognize sustained support and engagement with volunteerism and service over many years to the Forest Service." Stated Deputy Forest Supervisor Beth LeMaster, "Winners of this award exemplify excellence in their work and commitment to the Forest Service motto of 'Caring for the Land and Serving People'.  I was honored to present this award to the Shenandoah Valley Bike Coalition."
"There are many events and activities throughout the Shenandoah Valley and in the city of Harrisonburg that SVBC supports, such as rides, events, clinics, festivals, 'Bikes for refugees', 'Connect our schools', advocating for greenways, and the bike trails at Hillandale Park." Stated North River District Ranger Mary Yonce, "I am convinced the Shenandoah Valley is a far better place to live with SVBC here."