Please feel free to contact any member of the board with questions, concerns, suggestions, etc.
Board Bios
Kyle Lawrence (President)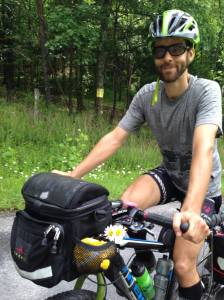 I believe the bicycle to be one of the most powerful tools to change lives, build community, and transform our world. Harrisonburg and the Shenandoah Valley have provided me with unmeasurable opportunities to ride my bicycle and interact with amazing, passionate people. After graduating from James Madison University, I remained in the area for the community and riding opportunities. I am excited to see momentum building on all cycling related fronts in the past few years from trails, to events, bike lanes to greenway planning. I hope to help keep that momentum rolling and continue growing the SVBC into an organization to represent all things cycling around Harrisonburg and in the Shenandoah Valley.
 Rich Harris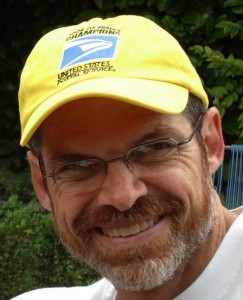 Bicycling of all forms adds to the quality of life in any community. SVBC is a vital part of advocating and growing bicycle usage in ours. I feel SVBC can build on our current work by further refining our vision and becoming an even stronger voice for promoting and organizing bicycling in our community. I have served on many boards and currently serve as the President of the Ten Thousand Villages board. I am the Director of the JMU Community Service-Learning office and as such work with over 75 local nonprofits, schools and governmental organizations. I teach in the JMU Nonprofit Studies program. I also serve on the Rockingham County Bicycle Advisory Committee. I have been a member of SVBC (or its former organizations) since 1996 and have led the Bridgewater Sunday road ride for the past 15 years.
Ben Sandel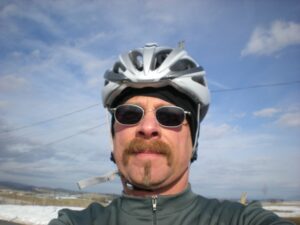 I live in Harrisonburg, ride on the road mostly, have three kids who ride to school most days and I Fargo. I've served on the boards of the Friendly City Food Co-op and Washington Area Bicyclist Association. I think SVBC is a great force for cyclists in our region and I'd like to work on strengthening the governance side so it can do even more and maintain its strength and influence for the long haul.
Misty Tilson
I have many fond memories from childhood of riding my bike with family and friends;

and growing up in a rural area with very little traffic
we didn't have to worry much about cars or busy streets. It was not until after coming to Harrisonburg to pursue a Master's Degree in Occupational Therapy at JMU (2006) where I learned that commuting to class by bike was quite challenging and a bit overwhelming on the busier roads. Then, after becoming a member of the Shenandoah Valley Bicycle Coalition (SVBC) I began both mountain biking and road biking with a passion and more of a purpose. Perhaps this was the result of experiencing the overwhelming sense from others in the coalition to make it a lifelong habit. I also felt a strong desire from the members of SVBC to constantly improve the bike riding experience, make it safer, more fun, and to educate others of how their life can be enriched by riding a bicycle. I feel moved most by the following statement on the SVBC website that describes what the coalition is about… "Harrisonburg and the Central Shenandoah Valley will become known as a center of safe, sustainable and enjoyable cycling on roads, trails, and streets."  I am delighted to have the opportunity to help contribute to this mission by serving on the board for the SVBC and continue to help make Harrisonburg a bicycle friendly place.
Mike Bowen
I have lived in Harrisonburg/Rockingham County my entire life and currently live in Massanutten Village with my wife Robyn and two kids. We are extremely fortunate to have so many miles of premier mountain bike trails in our back yard. The access to trails have grown tremendously in the time I have been riding (20 + years) and I know in large part because of the efforts of SVBC. I also have enjoyed seeing many road improvements across the City and County and look forward to continued progress to make road riding a more viable option for commuting and recreating for more people.
It would be fairly easy to make a laundry list to express all the positive things about riding bikes, but all I really need to do is look at the smiles in a group of cyclists; good stuff.
I would like to keep advancing this great activity.
Board and Officer Elections Q & A
When are the elections?

Elections will take place during the month of November.

When does the new term begin?

The new SVBC Board will begin February 1st following the December elections.

How will people vote?

Ballots will be available through the web as well as through the mail and November newsletter.

Who can vote?

Any current SVBC member 12 years or older.

What if there is a tie?

We will go to the old reliable coin toss.

How many Board Members will be elected?

The SVBC board consists of seven members. Three members will serve for 1 year and the other 4 will serve for two years.

Are there term limits?

Yes, a Board member is limited to two consecutive terms with no limit on the total number terms.

Are there elections for Officers?

No. The mandatory officer positions are President, Treasurer and Secretary. To be one of these officers you must sit on the SVBC Board. The positions will be appointed by the new Board.

How long will the officers serve?

All officers will serve a one year term.

Are there other Officer positions?

Yes, there will be other officer positions and they will be posted. Persons filling the additional positions need only be approved by the board, but are not required to be a current board member.
Duties and Responsibilities
Board Members

Meet as a full Board quarterly to discuss, review and approve club business and activities.
Budget approval responsibility. Board members approval is required for club expenses over $100.
Organization and advancement of the Coalition mission. Promotion of Coalition membership. Strategic planning.
Input and attendance at monthly Coalition meetings. Possibly preside over monthly Coalition meeting when officers are not present.
Input to the SVBC newsletter and web content.
Participation in Coalition events
Maintain and advance relationships with local governments and management agencies to promote the mission of the Coalition.
Facilitate communication with Coalition members and partners via email, website, and other media.
Appoint officers annually.

Officers

(In addition to duties and responsibilites of Board Members)

President

Preside over monthly Coalition meetings.
Preside over quarterly Board meetings.
General promotion of Coalition
Recruitment of future board and officers

Secratary

Maintain and post to appropriate minutes from Board meetings and monthly club meetings.
Support the Coalition communication processes.

Treasurer

Oversee finances of SVBC.
Reconciling accounts and spending
Manage SVBC budget and internal event budgets
Provide financial reporting for Board
Support membership processes.