Update: We are working on a trail around the pond. You can drive all the way up to the pond if you enter through the red gate next to the old guard house. The next gate should also be open. Contact Thomas Jenkins if you have questions: [email protected] shenandoahbicycle.com or 540-236-2001.
Beginning Thursday, May 4th, 2017 trail work will return to Massanutten every Thursday night through the end of October. As usual, we will be Leaving from the Western Slope parking lot at 5 pm. We'll work until about 8pm. You can always meet us on location. We will also be having selected Saturday morning trail work sessions as well.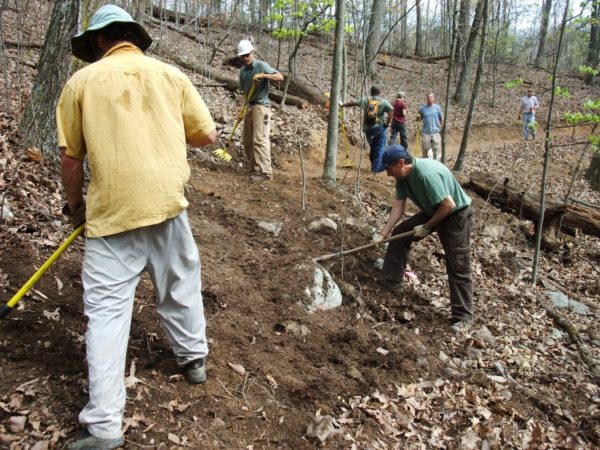 These trail work sessions are a great opportunity to earn a Massanutten trail pass (8 work hours get you a season pass), help develop and maintain the trail system on the Western Slope, and meet fellow trail lovers
2017 Project will begin with finishing up the trail at the pond so it goes completely around the pond. In 2017 we will also be working on continuing trail "VA54" so it connects the the "Boundry Trail".
The gate by the Horse stalls will also be open for folks to drive to the Pond.  Feel free to ride your bike in as well.
SVBC will supply tools and drinks.  Bring gloves and good trail work attire.
For more info on trail work days contact Thomas Jenkins: tj (at) shenandoahbicycle (dot) com, 540-236-2001.