1/13/2018: Massanutten Western Slope Trails are now open daily for regular trail use and are closed for hunting until November 2018. Thank you for respecting the trail closure and see you out on the trails real soon now.
Online resources for mapping can be found here: MTBproject and Open Cycle Maps.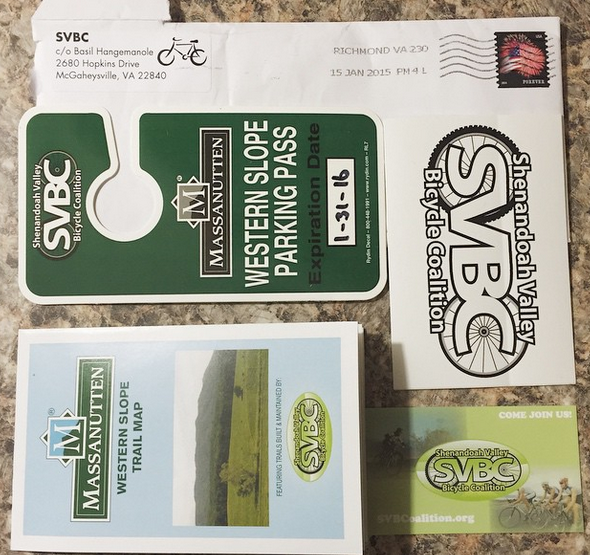 The Massanutten Western Slope is private property, you MUST have a Massanutten Trail Pass to access it. 100% of all fund from trail passes go to the SVBC This system only benefits your local Bicycle Coalition.
Day and Week Passes now available for you to purchase online and print out for same day access:
PURCHASE a Day Pass NOW

PURCHASE  a Week Pass NOW
—————————————————————————————————-
To obtain your Annual Massanutten Trail Pass, you must follow all of the below steps. Upon completion of these steps we will MAIL you a pass to the address on your Risk and Release Waiver. No Waiver= No Trail Pass
To obtain a trail pass, please read the following very carefully. Don't hesitate to contact us with questions after you read ALL the directions.
You must be a current SVBC member. You can join us online here. Not sure if your membership is current? Check NOW.
Next, You Must Complete an online Waiver EACH YEAR: Massanutten's required risk and release form.  You MUST fill out the emergency contact information and confirm your email address. We will mail the pass to the primary address you provide on the waiver. When you do so, will be prompted to specify whether you will:
donate* $50 for an annual pass OR
commit** to volunteering 8 hours of trail before November 1st of each year. More info about Trail Work.
* All funds go to SVBC
** You don't have to complete trail work prior to getting your pass unless you have failed to complete the prior year's trail work.
3. If you will donate for your trail pass: For Payment you can either:
Mail check (If you mail a check make sure you EMAIL US ([email protected]) and let us know you mailed your check) to:
SVBC
PO Box 1014
Harrisonburg, VA 22803

Donate NOW Online with PayPal: http://svbcoalition.org/donate/ be sure to leave a comment along the lines of "Massanutten Trail Pass"
All trail users are required to carry a trail pass with them at all times when using the Western Slope property to ride or hike. Any vehicle parked in the Western Slope parking lot must display a current Western Slope Parking Pass.
We will MAIL you a trail pass as soon as you complete all of the above steps. The pass will be mailed to the address you specified on your Risk and Release Waiver.
If you have further questions contact us at [email protected]