8/27 UPDATE – Celebrating the Century for the Month of September
When we opened registration for the Century in 2020 we recognized that the 38th year of the event would look and feel different than prior years. Due to a number of factors associated with the COVID pandemic, it has become clear that the Coalition will not hold a single day Century on Sunday, September 13.
Instead, we will celebrate the history and 38 years of the Century along with our bucolic rural roads of the Shenandoah Valley for the entire month of September. More details to follow on the Century and the Virtual component that we are adding for the entire month of September.
Please know your registration supports the Coalition's work as we harness the power of the bicycle to build better communities in the Valley. While we are always working on a range of campaigns, we are very excited for the Century to support the transformation of our Bikes for Refugees program into its new iteration, Bicycles for Neighbors.
We have recently restructured and re-titled the program to better serve a broader array of people in the Central Shenandoah Valley who are in need of a bicycle. The new name, Bikes for Neighbors, is inspired by the neighborly atmosphere of our community and the "No matter where you are from, we are glad you're our neighbor" signs, which originated in our little corner of the world.
Thank you for your support and we are eager and excited to use the month of September to highlight the history of the Century while celebrating the unique rural routes that make up our four beloved cloverleaf loops.
General Information
We invite you to celebrate the Shenandoah Valley Century with some of the finest cycling to be found. The ride starts in Bridgewater, Virginia, and includes scenic vistas, small towns, beautiful farms, quiet roads, and more. All routes are paved and have low traffic volume.
Participants ride at their own pace; the event is not a race. Maps are provided and the route will be patrolled by automobile SAG to provide assistance as needed. A food and drink stop is provided every 25 miles and at the midpoint of the 25-mile ride.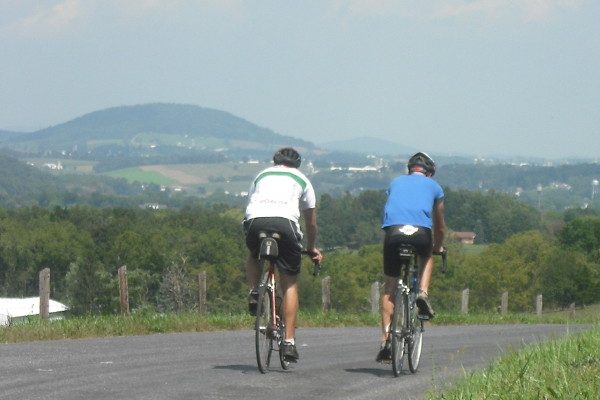 What is a century ride?
A "Century" refers to a bicycle ride of 100 miles (a century of miles). Century rides originated in the late 1800's when cyclists would attempt to ride the 100 miles in under ten hours. Now, rides of various lengths are offered to suit all abilities, with no time limits set.
What do I get?
Registration includes route map, marked route, route patrol, mechanical help, food and water stops during the ride, and after ride treats.
Registration
Online registration: Click here to register online.
Mail-in registration: Prefer to register by mail? Click here to download a registration form.
All riders will be required to sign an informed consent form when they check in the morning of the ride!
IMPORTANT COVID-19 INFORMATION: In the event that we are unable to hold the Century due to COVID-19, we can transfer your registration to next year, or we can offer full or partial refunds upon request to be as flexible as you need. We will continue to monitor the situation and follow state and CDC guidelines, and thank you for your trust and support.
Pricing
Preregistration (through Sept. 6, 2019)

Individual: $20 for SVBC members, $25 for non-members
Family: $40 for SVBC members, $50 for non-members


Late registration (Sept. 7-13, 2019)

Individual: $25 for SVBC members, $30 for non-members
Family: $50 for SVBC members, $60 for non-members
Please Note: "Family" means 3 or more members of one family living at the same address.
Routes
NOTE: These routes are subject to change! If you download maps and/or cues now, you should plan on checking back for updated versions closer to the date of the event!
The route is divided into four Loops of 25 miles each. Each Loop begins and ends at Oakdale Park in Bridgewater. For the full Century, ride Loops 1-4. For the Half-Century, ride Loops 1 & 2. The Quarter-Century is also divided into two shorter Loops, each beginning and ending at Oakdale Park.
This information was updated on May 15, 2020. If you downloaded anything before that, you should download these revised copies.
GPS
The links below take you to ridewithgps.com, where you will find maps, elevation profiles, and downloadable GPS files in various formats (.gpx, .kml, .tcx, .fit) for all of the rides. Also, check back occasionally to see if they've been updated again. Note that some of the cues on ridewithgps.com are not correct! See below for corrected cue sheets.
Cues (spreadsheet)
Note that some of the cues on ridewithgps.com are not correct! These links will take you to corrected cue sheets. Cue sheets will also be available the day of the ride.
Maps & Cues for printing
Printed maps and cues will also be available at the beginning of the ride.
Schedule
7:00am – Registration open for all rides at Oakdale Park
8:00am – Start for 100 mile ride
9:00am – Start for 50 & 25 mile rides
If you are riding the 25- or 50-mile route, we suggest you register after 8:00am to avoid lines.
Rest Stops & Support
Rest Stops
All rides are supported with rest stops every 20-25 miles and a midpoint rest stop for the 25 mile ride. The rest stops are well stocked with a variety of food and beverages, free with registration.
The rest stops in Bridgewater will close at 6:00 pm. Please keep this in mind when deciding whether to do that "one more loop"!
SAG Support
Auto SAG support will be available on each route to provide help for those who need assistance. Please be prepared to fix minor repairs (such a patching a flat) to avoid unnecessary delays.
SAG support will end at 6:00 PM.
Food
There will be plenty of food at the rest stop in Oakdale Park. There will also be paninis and other great food to enjoy after the ride. Please stay and celebrate!
Want to Volunteer?
Send an email to [email protected] We'd love to have your help!
Interested in previous Shenandoah Valley Century Rides?
Check out photos from previous years here, here and here. Feel free to contribute your own photos to the SVBCoaltion Group Pool after the ride.