Festival Need to Know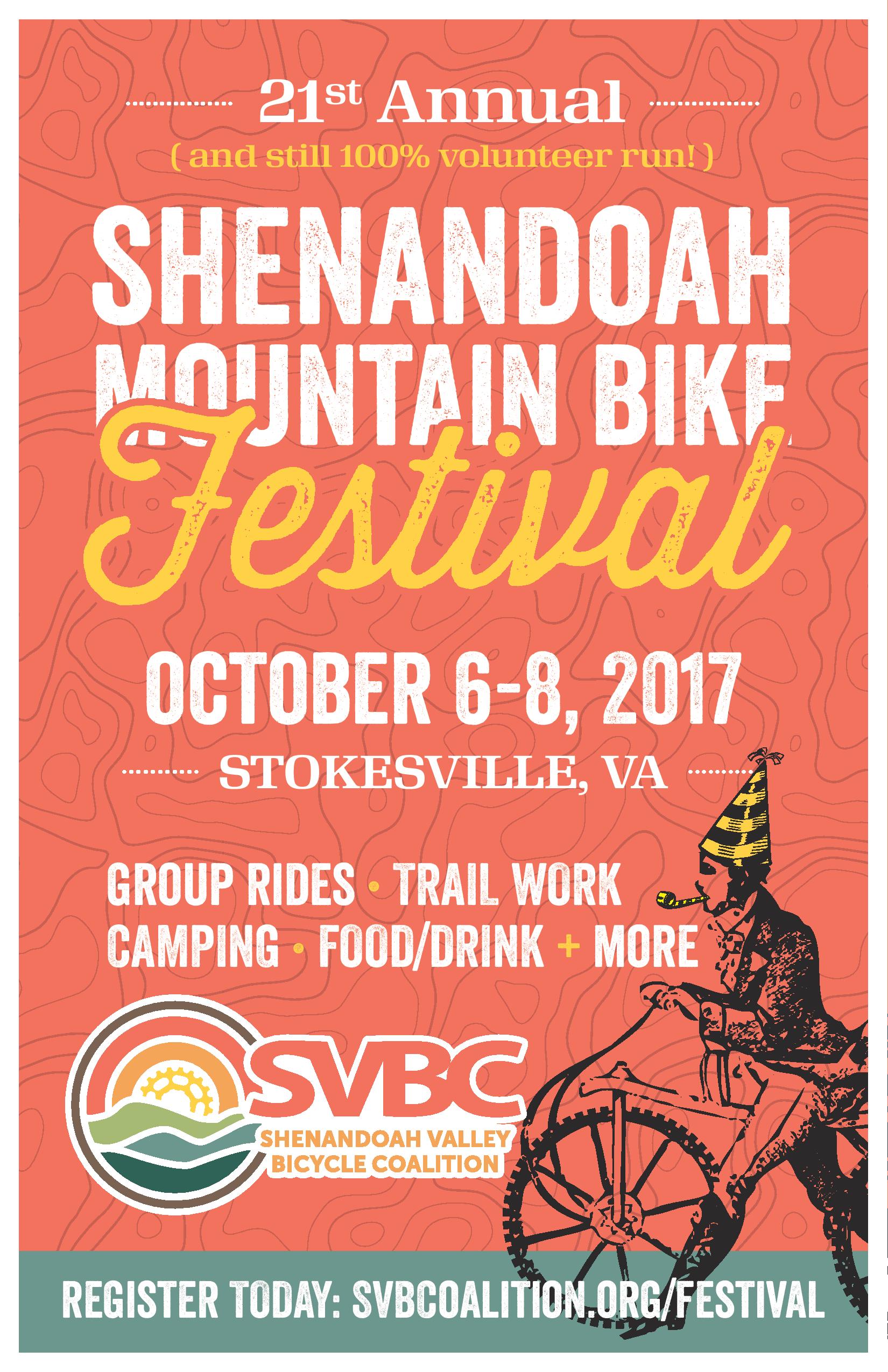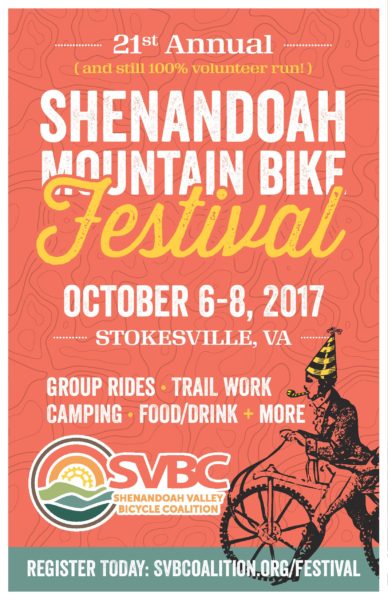 Festival

 Registrants Need to Know

We still need 

26 volunteer positions filled

 to get this party started….one volunteer slot for each entrant will keep this a 100% volunteer event, just like it has been for 20 years!! Check the 

Volunteer List 

and 

contact Scottie today

 to let us know where/how you can help. 

If you signed up undecided
for which volunteer slot you want

, now would be a great time to check and

see what you'd like to do! 

Contact Scottie 

if you've made up your mind!
On tap for you at the 2017 Shenandoah Mountain Bike 
Festival
Bring your Friends: We will have on-site registration open and we always want a bigger party.
Parking Passes: We will be issuing parking passes as part of check-in for the 

festival

; you will need a parking pass while at the 

Festival

.
Raffle: To raise money to help improve our trails in the National Forest. Bring your generosity and check out our prize packages.
Hats: We have brand-spankin' new Coalition hats available for a one-time-only 

festival

 pricing. Pick one up when you register.
Trail Work: This year we will hold trail work on SATURDAY only. Work will be on the Tillman West Trail on Narrowback Mountain. Trail Work starts at 

9am

 and continues until 

3pm

Group Rides: View the schedule and contact Sue George if you can help lead a ride. We still need 10+ more ride leaders.
Cookie Party: 

Saturday

 night tradition, bring homemade cookies to share with everyone. We will have dozens but could use more!
Please Sign our Waiver: If you haven't already, you were supposed to do it when you registered- Click Here for 

Festival

 Waiver
Skills Clinic: TakeAim Cycling is donating two clinics at the 

Festival

! Become a better mountain biker by participating in this skills clinic taught by Take Aim Cycling's Harlan Price.
Weather: We will be there rain or shine. We hope you will be also! Temperatures can vary from 40 to 80 degrees there this time of year. Bring lots of layers for night time and riding.
Utensils and Cups: Bring your own plates or plan to reuse the few that we have onsite. We do have silverware, bring your own cups.
RV Sites: Some campsites have been rented specifically for RVs if there are signs up please leave these for the RV crowd who reserved them.
Yoga: Planning on participating in Yoga for Cyclists 

on Saturday

? Then please bring your own mat (BYOM). All levels and all ages are welcome!