If you are new to bicycle commuting or new to town or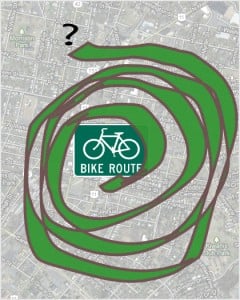 just think there must be an easier way to get where you want to go, two members of the Shenandoah Valley Bicycle Coalition are happy to help you find the most stress-free roads to get you there on your bicycle.  They are even available to accompany you on a trial run of the route.
Until Harrisonburg and Rockingham County are criss-crossed with greenways and other designated bicycle paths, Ben Wyse and Carl Droms can find your path of least resistance. Please contact them.
Ben: [email protected] Carl: [email protected]