---
Mike –
I'm planning on slummin'
It'll be rough, and I won't be ready, but I'll dangle off that back like a champ.
MattyD
---
Carp,
Count me in for the full-pull in yet another likely fruitless bid for the DFL. Time to start training!
Veerman
---
Carp –
I've been having these nightmares though.  Recurring, serious, PTSD dreams where I show up for my first ever stage of the Tour De Berg, and the route is littered with gigantic downed trees.  all day, we're jumping them, trying to get around them, getting stuck in them, terrible.  It starts to get dark, and things are pretty tense, and l'autobus is hungry and dehydrated, and then the moon comes out and it's wearing a yellow jersey, and all hell breaks loose, and the dream gets kind of jumbled at this point, but I'm pretty sure Thomas Jenkins kills me and eats me (he's VERY nice about it, talks to me the whole time, etc.)
What I'm saying is, I'm in for Sunday, two towers-derecho redemption. Gotta exercise these demons before they get fat.
Dave T.
---
Carp,
Enough poaching.
All in for my first full slum attempt.
Jake Brown
---
Count me in Carp- Full pull. Looking foward to it. Im  a medium jersey and do look good in the red KOM. Ready to rip some super D road downhills!
Ian
---
Big Carpong,
Count on me for a full pull! I have been Hitting the gym #tossingplates and transforming my Lower body into a freak show of muscles. I was even training with power, but I kept blowing up @garmin head units when I stood up because they are unable to display 5 figures! Ready to take my bike to the #ragecage and crush both up, and down hill. see you in JULY!
-Dan
P.S. I can wear any size leaders jersey as long as you have enough safety pins, and Nick Waite is there to taylor it up for me.
---
Yes, I am in.
__________________
sent from frank dubec
---
Le Director
My team status is G…..GO!!!!  I would like my TdB plate to be #96 /browntown unicorn
Tony Brown
---
Dear Sir-
Please consider this my notice of attendance for the full pull of Le Tour in the year of our Lord 2013. It is my understanding that some Baltimore boys embarrassed Harrisonburg locals at a recent Enduro, and it is my intention to help 2012 Men's Leader embarrass more locals.
Sincerly Yours-
Dan Atkins
---
I am commited to the full pull!
signed,
adam williams, junior durtface
---
I will be there for the full pull in some capacity. Probably a mix as I don't think my hand my hand will allow me to ride the tour in its entirety but time will tell. I look forward to several days of slumming of the not so distant future
Sent from my burner
---
Letter of intent……
Haircuts anybody?
For the 11th year I will throw my tired old hat in the ring for the
festival of pain that is the Tour de Burg. I have a cache of stinky
diapers and broken toys to throw at anyone who dares show me a wheel.
The strongest part of my game is my driver "Oh Yes Bo Yes!" watch out
on the road.
CUPCAKES!!!!!!!!
Buck
# # #
---
Dear Sir Carpenter,The time has come to get on with the slum.  The valley calls and I can't resist. I'll make the journey for a full pull worth of cheap livin' and summer sufferin'. Hopefully I will have a contingent with me, and they shall throw their chips in soon. I'll also be brining a bottle of laundry detergent for when I or any other schmuck receives (or takes) a jersey from Ian this year because the possibilities of it being washed seem slim. I shall see you slummers soon.Eric Hamann
---
Letter of Intent…. To Whom It May Concern- The Cupcakes are sending a small but determined contingent to maintain our franchise. Due to a high birthrate and an outbreak of responsibility our numbers have been impacted. However, I Pedro Salsanongrata intend to ride the full pull and give particular meaning to the term "slumnin!"  See you at high noon on the 3rd.
---
 Carp, I really don't even know what slumming is, but people seem super-excited about it. Count me in for the full-pull.Mike Tabasko
---
Mike T,Let me show you a few examples of slumming.Yours truly 24 hours before back surgery…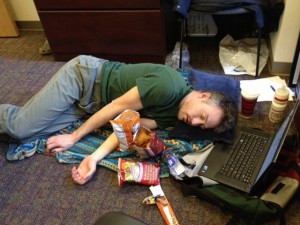 Carpong after standing alone atop Currahee Mtn in the 2006 Fall Tour…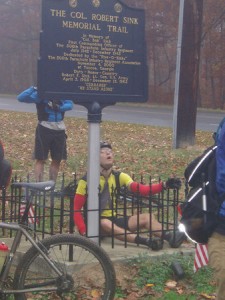 Paul Buschi displaying rare slum form along the SMT…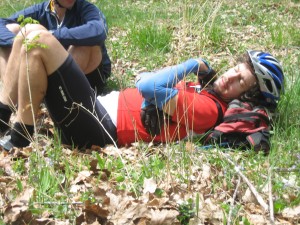 ---
Carpie,Oh my god! its chris clark. At the tour. full pull you say?
God bless America.Clarkle
---
Dear Sir with the nickname of a large freshwater Cyprinidae,I was informed about The Tour's epic demands and rich history by a friend who claims himself a member of the "JV" squad. It both intrigues and scares me, as I have never been to the Shenandoah Valley and I know not the entirety of its beauty and peril. Based on folklore, I understand it to be a savage beast that turns boys into men and men into mashed potatoes.After decoding the lingo in the other posts, I can say with 51% confidence that I am in for a "full-pull" in the "rage cage". I am also well versed in what I believe to be slummin', but up above the Mason-Dixon line we refer to it as Dirtnappin'. I also vow to provide a demonstration of stunts upon arrival.
I've included a brief portfolio for your review:
Slummin / Dirtnappin'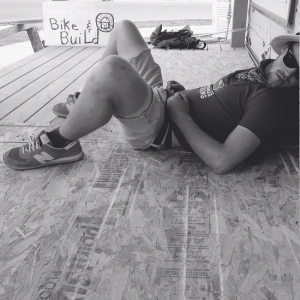 Slummin / Dirtnappin'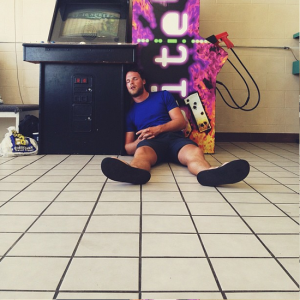 Stuntin' / Fun Havin.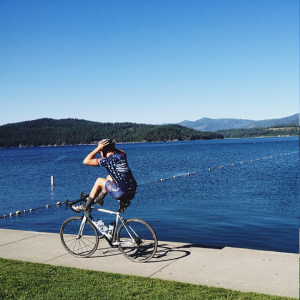 I hope you will consider me for this year's tour.
Thank you,
Alex
---
Dear Mr. Carp,
After the glory and goodness I found in the 2012 tour edition, I would like nothing more than to be included in the 2013 edition of La Grand Boucle d' Burg. I will admit however that turbulent times have fallen upon this Super D and General Classification Leader of 2012. My tale serves as both inspiration and warning to those chasing the immortality offered by the Maillot Neon Yellow. At first there was much happiness, trail riding, and crushing. People spoke in hushed tones when I rolled to start lines. The pressures became great though and the demands on my time many. I journeyed down a dark path. There was a great deal of roller blading and even worse—cyclocross. But none of this could compare to the damage caused by Malabar Gold and the accompanying times of comfort. Yes, Men's Leader was on the ropes, a shell of his former self. Alas, though, the light is once again shining. My return began with a legendary climb of the Pacific Northwest's Monster Volcano, Mount Rainier. As I suffered at 14,000 feet, head buried in a down jacket, lungs partially filled by fluid, I had visions: I saw my face twisted in agony knowing I had missed the turn on the first road stage, sweat pouring on the earth as I changed multiple flat tires in the searing sun, winds that snapped the trees, and tequila with the JV squad. Then, suddenly I was chasing Nick and he disappeared into a mass of fallen trees with branches that transformed into massive knives! From the knives sprang a giant rattlesnake that lurched up and struck, but missed! The snake looked at me, turned, and slithered into a sea of ice cold PBR where Swedish fish and Haribo Bears swam. And at that instant I awoke and gazed into the distance knowing all was not lost. I would survive! The sunrise on the mountain was pure and beautiful, and a warmth filled my soul as we descended towards woods filled with miles of new trails and exciting adventures. My journey to the start line of the 2013 Tour de Burg was officially underway. In only a few weeks time my destiny of either pure slumming or immaculate trail riding domination will be revealed.
Vive le Tour, Full Pull,
Collin
---
Dearest Tour Director,It is with tears of explosive joy that I submit this letter on my intentions to commit the act of full pull upon this 2013 edition of Le Tour. Over the past years my time has been squandered at lesser tours, all the while my heart longs for the heat and misery that only the 'Burg can provide. So many hours have been sacrificed in preparation for this event, millions of gravel pieces streaming under the tires. Hundreds of trips through the rolling hills of my homeland dreaming of the Reddish mountain climb(s?).Oh, the anticipation is more than I can stand! Even now the pints of malt beverage pass through my hands at a feverish pace in hopes that this will prepare my soul for the crushing that is only a little more than a week away. Until then my friends…………..Viva le Tour!!!
Joseph Von Blowseph
---
Looking great for 2 stages of tdb – thursday and saturday! MTB loving it. I intend to have a blast joining the best riders in the world for this once in a 2013 event!
My wife Paula plans to do wed and friday and will email you!Can't wait!Kent Baake
---
After graduating with a degree in bull shit, I've been slumming through the summer without a job, so I figure why not continue the slum in the tour next week. Hard to beat a week of riding. Full Pull.Andrew DeVier-Scott
---
I'm tossing my pink Ass into the Tour de Burg slumtown browntown funkytown out of town downtown showdown. I hope that there is no Enduro bullshit stages.
Sue
---
Hey Dude,Sign me up, full pull! In the immortal words of DBA " You can slum but you can't hide". Viva le tour!!Matt S.
---
Hey Mike I'll be slummin with the best of the best at the back of the pack during first 3 days of Le Tour.Ray Gay
---
Carp,I'm in for the full pull this year. I'll be cutting it a little close getting back from NYC, but I will be on the prologue start line at high noon (or a few minutes after).Vive le Tour,
Paul Deeble
---
From:
yt5000burg yesser…
---
A natural born foof but now a proud member of the dirty south, I'm in for the full pull
-James Wittwer
---
The summer of 2013 has seen victory and defeat for many a young rider. Seemingly absent from the early classics like Dragons Tale Young Charles surprised everyone at the Harris Roubaix. Riding like a man possessed, he finished in an impressive 6th place behind established champions like JB, Nick Waite, Collindish, and the angry Andy Rhodes. Some called it a fluke, some said doping, but the truth emerged that Charles had unemployment legs.While funding for other races was slim, Young Charles managed to do sexual favors and other shameless acts to put gas in the tank and keep riding. On the eve of the first grand tour of the year there were whispers and murmurs of the beast from the east who was looking for blood. Yes Young Charles had not spent all his race winnings from the Roubaix on blow and hookers. He had kept training and would rise to glory by solidifying a podium spot (by the hairs of his chin) in the Giro. We want to point out here that Harrisonburg was oddly absent from any podiums, sprint jerseys, or KOM jerseys in a Giro that Carpong described as "Giro Soft".With the glorious ride in the Giro many thought we would see small balls keep those unemployment legs going and make a go for the TDB podium. Well we have to report that sadly the man has re established his grip around YC's manhood. Due to these recent employment changes, and the fact his EPO had run out, Chase Whyne will only be able to attend three days of the tour. However, don't dare think that he won't be launching absurd attacks from the front and rear in the name of the illustrious JV SQUAD (yes we're not dead yet)!
Here's to the 2013 Tour de Burg, let the circus begin!
—
Chase Lyne
---
I intend to start. Beyond that is just Cake.-Dan Oates
---
Director Carpong,I am completely prepared for another mediocre Tour result and will be planning to not to kiss any guardrails or make any wrong turns in the prologue for 2 years in a row. Viva!
Zack Morrey
---
Dear Tour Director,The "other" Tour is preventing me yet again from entirely escaping my computer for the full pull, but after weeks of preparation deep in the mountains of Trans-Sylvania and New Hampshire. I'm looking forward to plenty of slummin' on Friday-Saturday-Sunday.
Susanna Jorge
---
Esteemed Tour Director,I don't know if I should do the tour. Should I do the tour? I don't know if I should do the tour. So you think I should do the tour? I hate riding in big groups. Riding in big groups sucks. No that stuff. You know what else I hate? Riding on any kind of road. Do you think I should do the tour? I don't know if I should do the tour. Riding on the road SUCKS. Holy crap, I can't believe those people ride their bikes on the road. For FUN. They like riding their bikes on the road. And they like riding in groups. No that stuff. I HATE riding in groups. I live on the side of a mountain for a reason. You know what the reason is? Cause people suck. You know what doesn't suck?? Signal Knob doesn't suck. You know what else doesn't suck? Short Mountain doesn't suck. And you know what else doesn't suck? Short Mountain in the other direction. Those things don't suck. Braaap! Braap!! I like rocks. Rocks are fun! UGH I don't know if I should do the tour. Should I do the tour? Kyle said I should do the tour. Tim said I should do the tour. Jennifer said I should do the tour. Screw those people, they like stupid stuff. No the Warbird. I hate that thing. You know what I like? I like my 5-Spot. You know what else I like? I like my double barrel. YEAH! Double Barrel! Braap!! Braap!! You know what else I like? I like rocks. Should I do the tour? I don't know if I should do the tour. Do you think I should do the tour?
F it! I'm in! Full Pull!
Preston Stempler
---
Full pull for me! Let me know if my house needs to be used for anything. Big back yard!
Misty
---
Mr. Carpenter,
I recently found myself compelled to pedal to the top of Reddish Knob for the first time in about 15 years. When I arrived at the top, Thomas Jenkins stepped jauntily from a pick em' up truck, a small saw in his back pocket. He began to clear the trail in preparation for the grand race.
This felt something like fate. It seemed clear I should do the Tour de Burg.
But then I investigated the event – C'est tres formidable! Just reading the course description made me feel beaten and terrified. And then it came to me: A battered body! An already defeated spirit! I'm ready to be a domestique.
So I hope to participate on "Day 1" where I will slowly drag myself through "Boy Scout" and to Lookout too…. I'll return for the "Day 3" road race and do my best (which may not be good enough) to "take a few turns" early on so I might ease the burden, at least for some small period of time, for those men and women battling for immortality in the general classification.
Bon Courage!
Steve Poulson
---
Looking foward to another year of slum as a cherry picker, starting with stage 2 and getting all I can for the 18th annual TdB. No GC for me.
–mbb
---
Sometimes a picture says it all. I am in for the full pull of the only race that matters.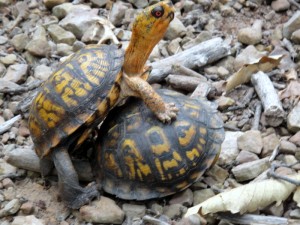 ---
Tour Director,
Please accept my belated letter of intention to slum on a moment's notice somewhere along the rarified course. I might even bring my wife along to slum with me. If stars align we may be there tomorrow for the opening ceremonies (if our tour bus manages to make it across the Stokesville Bridge).
Thanks for the invitation, the TdB deserves better, MUCH better, but as usual, this is all I got.
Respectfully Signed,
Bentjammer Brownholio
---
monsieur directeur,
count me in as a last minute entrant. full pull, i do suppose, though i don't own a road bike so we'll see how that goes.
merci,
chris c.
---
---
---
---