Tillman Trash Pickup Day a Huge Success!
A big thanks to everyone who made it out to pick up trash off of Tillman Road in the George Washington National Forest. As usual, the SVBC celebrated Earth Day by cleaning up one of our favorite roads in the National Forest. Marshall Hammond organized and led the gang on their treasure hunt. Thank you Marshall for all you do!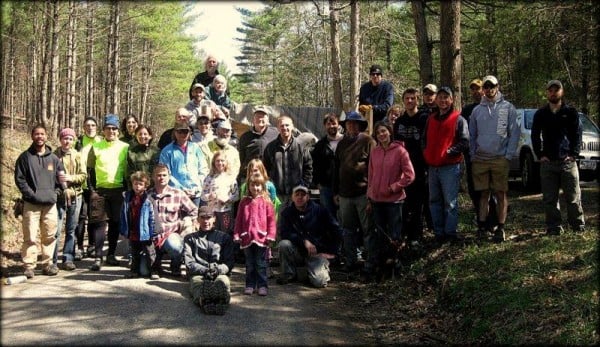 Recap from Marshall:
Forty-one (41) volunteers Trash Mobbed Tillman Road Sat 20-May. SVBC wants to send a very special thanks to Joel Geisert who brought the Big Boy dump trailer to gather all the booty into one place. What a great addition to the day.
The first order of business was to welcome new and returning volunteers and go over the plan of attack. Once folks gravitated to respective assignments the fun began. A Trash MOB attacked the illegal (gypsy) pile near Big Run. Shingles (the roofing kind) and vinyl siding somehow ended up in the GWNF, it must have fallen un-noticed off a truck. Boom, the pile was bagged and loaded in under 30 min.
Volunteers wandered the entire length of Tillman road rousting out tires, bottles, cans, a stray cow carcass (yep) and anything that was not intended to be in our beautiful forest. The picture shows the result of these finding. Although planned for 3 hours the task was completed in 2 and folks enjoyed hanging out, recounting their adventures and eating bagels. A trip to the New Land with Jillian and Jonathan was a great adventure.
Six folks finished the day by biking the Narrowback ridge. Oh, T-Love did find the last Bud can on his ride back up Tillman around 3 PM.