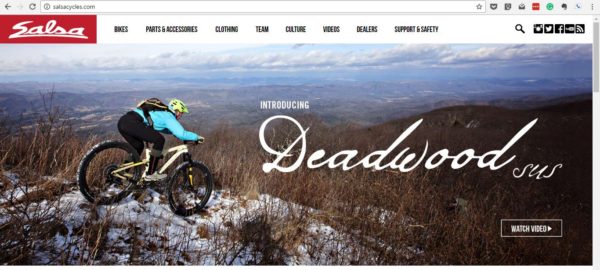 Not only is Harrisonburg and SVBC's own Lindsey Carpenter featured in this video for Salsa Cycles new 29+ full suspension bike launch, but our local trails and mountains are also highlighted in the launch video for their new bike, the Deadwood sus. Salsa Cycles decided to use Stokesville and our trails, our mountains as the perfect testing ground. Take a look and share it with your friends and family to show them what it looks like to ride a bicycle in the mountains of the Shenandoah Valley.
Stokesville from Salsa Cycles on Vimeo.
Shot over 3 days in the Shenandoah Mountains near Stokesville, Virgina, Salsa Cycles introduces the Deadwood SUS 29+ full-suspension bike through the riding of Lindsey Carpenter and Ethan Frey.
Credits:
Riders – Lindsey Carpenter and Ethan Frey
Art Director – Kelly MacWilliams
Script – Mark Sirek
Videography – Brendan Lauer
Drone Videography – Skyclad Aerial
Editor – Brendan Lauer
Music Composition – Ethan Houser and Brendan Lauer
Sound Design – Ethan Houser
Voiceover – Brendan Lauer
Location – Shenandoah Mountains near Stokesville and Harrisonburg, Virginia
Special thanks to – Chris Scott of the Stokesville Lodge; Thomas Jenkins of the Shenandoah Bicycle Company