The coupon code for Shenandoah Valley Bicycle Coalition members for 25% off Sunday races is svbc2018.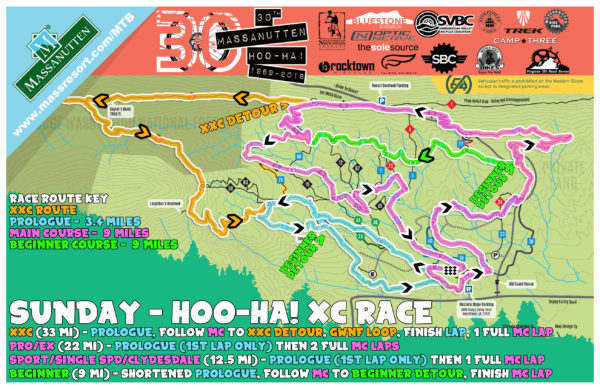 2018 will be the 30th Massanutten HOO-HA! cross country mountain bike race on Massanutten's Western Slope! 2018 Race schedule, maps, and course profiles below. Check out our updated Enduro routes, now with 5 stages and new sections for 2018!
When | Enduro on Saturday, June 2 and XC Race on Sunday, June 3
Where | Massanutten's Western Slopes – 3493 Happy Valley Road, Keezletown, VA 22832
2018 HOO-HA! Saturday Enduro Map
2018 HOO-HA! Sunday XC Race Map
2018 HOO-HA! Sunday XXC Race Course Map
2018 HOO-HA! GPS Race Course Maps & Profiles

2018 HOO-HA! Race Registration – open now through Thursday, May 31 at 11:59 pm. Pre-registration helps us plan for and host a better race, so please pre-register. If you miss pre-reg, we would still love to have you come race with us, but there will be a $15 Late Fee and you need to register at least 45 minutes before the event start. In-person registrants are limited to cash or check only.